Over the past few days a study has been published regarding the huge Gender disparity that exists in Irish Radio. However, as a result it has also raised two further key concerns.
1. Lack Of Independent Music being played by Radio
2. This is in fact a global problem (Not Only Irish Radio).
Firstly. Turning to the initial study compiled by Linda Coogan Byrne which has outlined some glaring statistics regarding the gap in radio play between Male and Female artists (Including groups featuring Females). Over the course of a year (2019 – 2020).
The study illustrates the top 5 songs played by each station throughout the year and also a pie chart illustrating the ratio of Male to Female artists played on the station. The differences are astounding and they really highlight some major issues.
Several stations such as FM104, LMFM, WLRFM and South East Radio fared the worst with 100 per cent of their top played acts being exclusively male artists.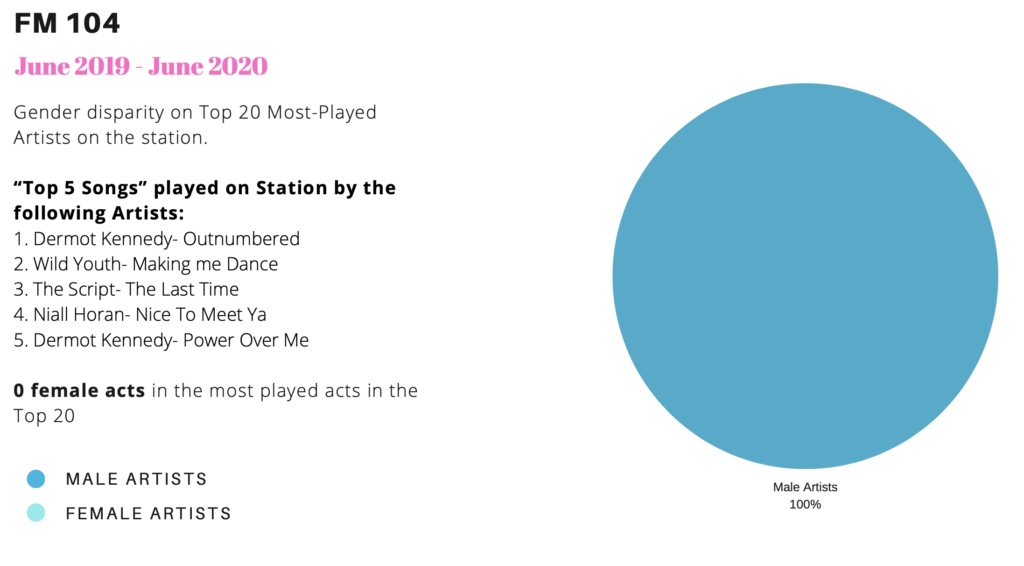 Many stations however, had just 5 per cent female artists included. These stations included; Today FM, SPIN1038/SPIN SOUTHWEST, BEAT 102-103, Cork's 96FM, Cork C103, RED FM, Clare FM, Tipp FM, KCLR FM, KFM, East Coast FM, Radio Kerry, Live 95FM, Midlands Radio and Shannonside FM. This meant that only one female artist out of the top 20 artists was a Female artist.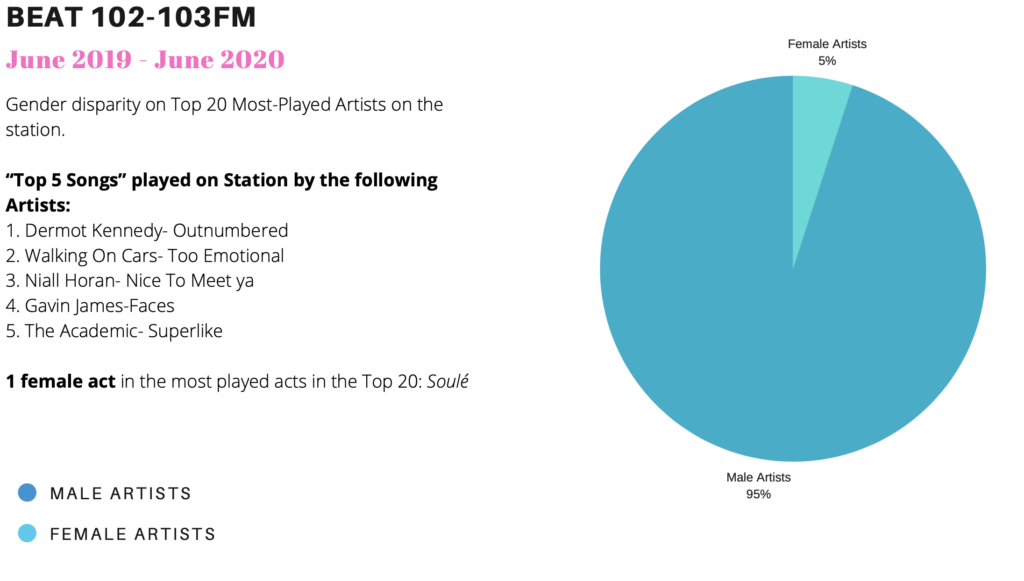 Overall Female artists made up between only 5% – 20% of the total radio play across all stations.
Breaking those numbers down. The top Male artist Dermot Kennedy clocked up 38,652 plays and 303.36 million impacts on radio. While the top Female artist Soulé received just 8,099 plays and 67.94 million impacts. That is a staggering difference of 235.42 million impacts between the top Male and Female artist.
However, if we take this argument one step further, we find that it is the same artists who keep popping up… Gavin James, Picture This, Hozier, The Academic, Wild Youth, Snow Patrol and Dermot Kennedy. The big factor linking all of these artists besides the fact that they all identify as Male artists is the fact that they are all signed to MAJOR LABELS. There is absolutely no independent acts listed amongst any of the top 5 acts. In fact, one of the Independent artists quoted in the study has gained 30 million streams on Spotify, major Film/TV sync deals such as Grey's Anatomy but they have yet to have ANY of their singles playlisted on Irish Radio. Going further the artist reveals that the DJ's want to play their music but programme controllers won't allow them.
So taking Gender out of the equation for a second… the big question is; If they won't play independent acts, where does the next big act come from? Or do radio stations even care?
Are commercial radio stations interested in new music or do they only care about selling airtime to advertisers and therefore, the prime concern is to play the hits and appeal to their chosen demographic. If so, this makes it incredibly difficult for any emerging independent artists to breakthrough. In essence, meaning that the game is rigged and if you aren't signed to a major label, have major representation and/or they aren't paying the right people to get your record playlisted then how do you break through.
Turning back to the gender implications. Who is going to inspire the next generations of Female artists? Why has there not been a successful Female band or band featuring Females in Ireland since The Corrs and The Cranberries in the 1990's, over 20 years ago. Are the gatekeepers at radio holding back emerging artists, especially female creatives by not offering an equal platform to that of their male counterparts. Why is that?
After talking with several people about this study, several topics kept coming up. Firstly, as I raised previously. Several DJ's reiterated the idea that commercial radio stations don't care. They are not trying to find the next big act, they simply don't care about independent artists. Their primary concern is selling airtime and attracting advertisers based on the highest listener figures possible.
However, another factor kept creeping up. One that not allot of people think about. That is; is the market at saturation point?
Has the availability of equipment to record music independently flooded the market to a point of total saturation. Resulting in thousands of independent musicians all gunning for the same slots at radio. Many of whom may be churning out sub-par recordings (demos) that don't match up to radio standards. Has this lead to radio not being interested in Independent acts of all genders because they associate them with poor recordings and presentation. Or do they get press mail out CD's and Emails from independent acts and say "not another one"?
These are all valid questions. That we must think about moving forward.
But perhaps, the biggest question of all is; What is the solution?
How do we solve this problem and is there even a solution. Do we start turning artists down based upon a quota system based on gender. Will this lead to a form of positive discrimination or is there another way?
Also, do we start playing more independent acts on the radio but make a point of saying to these acts that the quality must be up there with the big label artists. Either way, it is good that the conversation is now out there and we can start having conversations to bring about change.